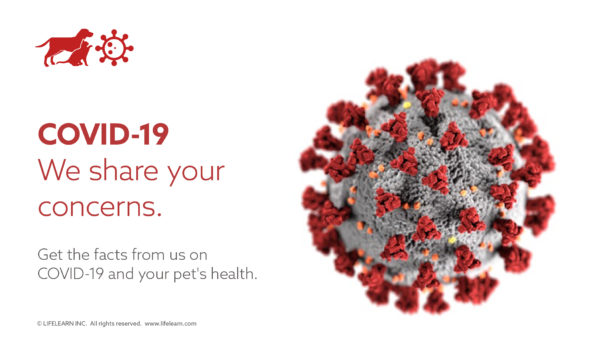 Dear Pet Parents,
Over the past few days, there's been a lot of talk about the coronavirus and, understandably, people are alarmed. At this time, our clinic remains open and is operating under regular business hours. However, due to the rapid changes in the situation we have developed new protocols to reduce exposure. In order for our staff to remain available to you and our patients we need to do our part in preventing and limiting the transmission of this disease. To do this we are asking for your understanding, patience and assistance. As news of the coronavirus (COVID-19) in our community continues to develop, we are monitoring the situation closely. We take our commitment to our clients and patients very seriously and, because of that, we're acting with caution to reduce potential risk and ask you for your understanding, patience and assistance during this difficult time.
Though we are not aware of any presumed cases of coronavirus coming through our hospital, we wanted to let you know that we are taking the following measures to keep you safe:
As a healthcare facility, we regularly disinfect our practice to keep you and your pet safe. Since concerns about the coronavirus popped up, we've stepped up our cleaning routine to make sure all surfaces are being frequently disinfected. We're also doing our best to keep hand sanitizer available at our hospital.
We're following the CDC's recommendations and encouraging sick team members to stay home for the safety of your families and ours. All employees are having their temperature taken when they arrive and if they are found to have a fever are being sent home per the ODH guidelines.
We are also now providing concierge service for medical, boarding and grooming appointments. One of our helpful employees will come to the car and retrieve your pet for their appointment and bring them out to you once your pet's visit is finished. Medical histories, boarding agreements and grooming request forms will be emailed to be completed prior to your pet's appointment.
Though we're remaining open during our normal business hours, we're continuing to monitor recommendations made by state and local officials and will act accordingly.
Here is what we need you to do for everybody to remain safe:
We are asking clients who are exhibiting respiratory or flu-like symptoms to remain at home. We are also requesting that any client who has come in contact with another person exhibiting respiratory symptoms to remain at home. Please make other arrangements for your pet to be brought into the hospital or we can schedule a curbside drop-off.
As on Monday 3/23/2020, we are implementing a check-in by phone policy. Clients arriving for medical, boarding or grooming appointments are being asked to call 440-543-1311 when they arrive in the parking lot. An employee will meet you and your pet at your vehicle and escort your pet into the facility and directly to an exam room or boarding/grooming area. This will help us to limit the number of people in waiting areas and maintain social distancing. The doctor will then contact you by phone once the exam is completed and go over any findings or concerns.
We are also now requesting that clients picking up medication or food please do it curbside. To use this service a client needs to:
1. make a request with 24 hours before the anticipated pick-up. Once the request has been approved by Dr. Clemens or Dr. Stumpe, and the prescription filled and ready for pickup a staff member will notify the client by text or phone.
2. Payment for medications and/or food will be made over the phone before pick-up.
3. When you arrive for pick-up please call 440-543-1311 and one of our team members will deliver the medication or food to your car.
Another option if you would like your food or medication delivered to your home is to take advantage of our online pharmacy. https://auburnvethospital.securevetsource.com/…/HomeDeliver…
Curbside pick-up is also now available for boarding and grooming as well. To use this service please:
1. Notify the staff 24 hours in advance so the appropriate check-in forms can be emailed to you and returned to us. No boarding or grooming arrangements will be accommodated unless the forms are completed and returned prior to drop-off.
2. Notify the staff of your arrival by calling 440-543-2621 and our staff member will come to your vehicle to escort your pet inside.
3. In the case of boarding payment will be made by phone once you arrive in the parking area for pick-up. Please call 440-543-2621 to notify the staff of your arrival.
4. For grooming clients payment will be made over the phone when our staff notifies you of your pet's completed spa day. Please call 440-543-2621 once you arrive in the parking area and our staff will bring your pet to your vehicle.
As far as your furry family goes, there's no need to worry. According to the American Veterinary Medical Association (AVMA), "no animals in the United States have been identified with the virus, and there is no evidence that dogs or other pets can contract or spread COVID-19." Here is a link to the AVMA's website for further information: https://www.avma.org/res…/animal-health-and-welfare/covid-19
Other sources of information for you:
Center for Disease Control
https://www.cdc.gov/coronavirus/2019-ncov/index.html
Ohio Department of Health
https://coronavirus.ohio.gov/wps/portal/gov/covid-19/
If you have questions of concerns about your pet's upcoming visit please don't hesitate to contact us at info@auburnveterinaryhospital.com or 440-543-1311. We have sent out a series of emails to notify clients of policy changes, but please continue to check our website: www.auburnveterinaryhospital.com or follow us on our facebook page www.facebook.com/Bridge-Creek-Kennel-Auburn-Animal-Care-182865495209010/ for further updates.
Thank you for your understanding and patience in these trying times. Due to the nature of this ever evolving situation new measures and restrictions may be necessary in the future. We will again notify our wonderful clients of any changes we need to make going forward. We will keep our clients posted on any new measures and restrictions that may be necessary in the future. Stay safe and hug your furbabies for us.
Sincerely,
Dr. Clemens, Dr. Stumpe & the Entire Staff of Auburn Animal Care.